jaypfunk wrote: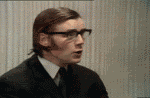 Dark Clothes wrote:
I'd say ignore the hotheads Scrutie and Wendy and you'll be fine.
Hey, fuck you, asshole. Don't put me in the same ballpark as that moron.
Nothing I've said is incorrect.
The whole argument, for the last 3 pages, has been about
nothing
.
He is taking our wording "same as vinyl"/"matches the vinyl" and taking it
literally
to mean that the audio will be EXACTLY IDENTICAL. He doesn't understand that we meant it would be
closer to the vinyl than the old Ryko's
. This shows a basic lack of understanding of the subject at hand, unbecoming of someone who supposedly owns a record label.
I refer everyone back to my first post. Post #3. Nothing in that post was incorrect.
Now read TCS's first post. He's starting shit for no reason.
This is why I refer everyone back to Pat's post, my first post, and Joe's post, for the correct info. Everything beyond that should be wiped/ignored.
And don't put me in the same ballpark as that dickhead ever again.