Good thread topic.
I also dig the extreme range and variations included in
YCDTOSA, Vols. 1-6
. If you love FZ's music live and haven't dove head-first into the circulated live shows yet (or possibly even if you have), this collection is a fantastic start! Favourites include...
Vol. 1
:
The Mammy Anthem
Don't Eat The Yellow Snow
The Torture Never Stops
Vol. 2
:
Inca Roads
RDNZL
Vol. 3
:
Drowning Witch
King Kong
Vol. 4
:
Brown Moses
The Evil Prince
Vol. 5
:
What's New In Baltimore?
Moggio
Vol. 6
:
Thirteen
Black Napkins
We're Turning Again
Alien Orifice
Catholic Girls
Crew Slut
IMO, most of these live tracks are MUCH better than the album versions. As for an absolute favourite, it would probably be
...Vol. 6
...
Btw, welcome to the forum!
_________________
ONE NATION UNDER SOCIALISM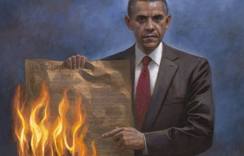 Because of Obamination's spending & socialist BS, America and much of the world will endure one of the worst depressions in history in
5...4...3...2...