MentalTossFlycoon wrote:
This is known as Stephan's Quintet. Noone knows why Stephan is so happy...
This one cracks me up...The scene in the Virgo cluster....I made it round cuz this is exactly how it frames in the round eyepiece glass.
It's pretty bright, you look down to draw a bead on the eyepiece, and your telescope is smiling back at you....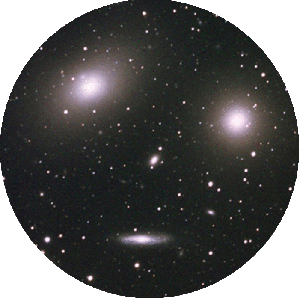 Here's a wide field of the scene, (I can't see anywhere near this wide, I can see about double the width of the face in my lowest power eyepiece)...viewing the scene piecemeal makes sorting out galaxys difficult, (plus everything's reversed from the maps in my scope):
This is part of the area called "Heartbreak Hill" because it's hard to pick out the Messier objects from the NGC's. A lot of beginner backyard astronomers use the Messier List to get an introduction to their star hopping skills, (in your second year you are seeing things that you looked right through the year before). In the early days (1800's), comet hunters wanted a list of all the unidentified fuzzy blobs in the sky (nebula, galaxys, star clusters, etc, shit they didn't know what it was), so they wouldn't track them over time to see if they moved, as comets move. This guy Messier compiled a list of things which turned out to be generally the brighter galaxies. Much later, New General Catalog listed the ngc's as telescopes got better and people found more things not on the original Messier list.).
Backyard astronomers usually want to sort out the Virgo cluster, they usually face it after doing a lot of work to find the other hundred and something Messier list objects....all the other galaxy's really fuck up the show....here's why they call it Heartbreak Hill...just the M objects please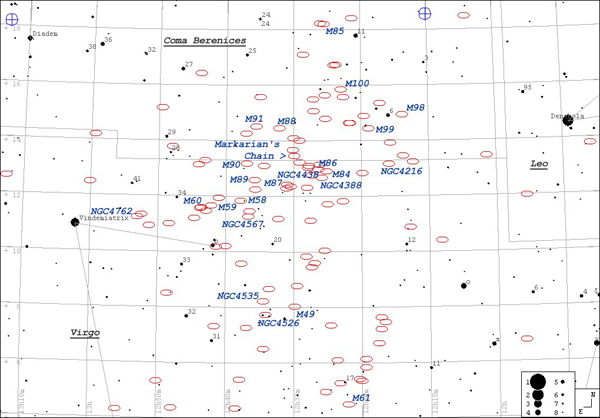 M84 and M86 are "the eyes" in the above face.