BRAVO SIERRA wrote:
Cheers
Mr_Green_Genes wrote:
Congrats, baddy! Hope you had a great one!
Thanks BRAVO and Mr_Green_Genes, it was a great birthday with Rose(:
Is that a "Green Gene" rotating in your signature?
________________________________________
It was an odd birthday in a way because my phone rang and woke me up and I picked it up expecting it to be Rose with a happy birthday call from the office....but it was my dear friend Clayton telling me he had only days to a few weeks max to live. I know all the rest of my birthdays will be remembered for this. I went out on my birthday ride thinking about Clayton and at the same time thankful that I could still get my ass out on my bike and ride through nature...so the ride contained opposite emotions of thankfulness and sadness....an odd combination.
My best bud Hank and I went up to visit Clay, he lives a few hundred miles north now (lol, he needed to go where the police departments didn't know him, he lives 2 miles south of Canada now, he couldn't get any further)). Hanks house was Grand Central Station in our youth, but the three of us were the core of it: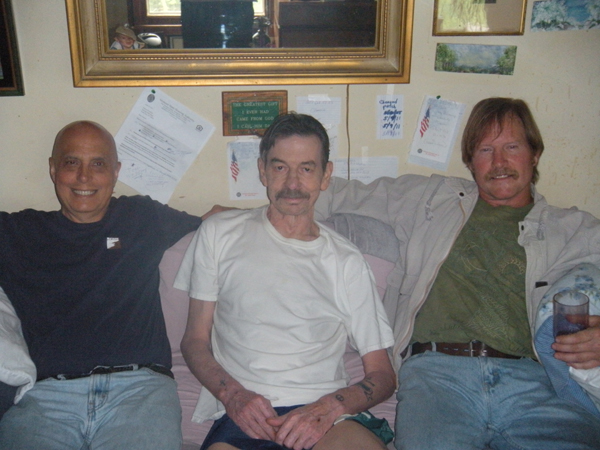 It was something seeing what has happened to Clay, both the artist and the rebel, his legs are now as skinny as his arms. Lung cancer got him, they took half his lungs out a few years back and gave him chemo. Oddly enough, after he recovered from that, he took up smoking again.
He'd been living up north for 20 years and actually had time to make a complete second set of "lifelong" friends up there, although apparantly some of the less loyal ones stopped coming to see him when they heard he had the "C word." You find out a lot of those smiling "friends" are not really friends after all...you find out when the chips are down.
Hank and I were hoping Hanks younger brother Jeff would come up and see the reality of what happened to the once vibrant Clay, to see the morphine prescriptions and oxygen bottles(he took it off for the photo). YOUNGER Jeff has had a heart attack already (at about 47), and went right back to smoking, (and drinks too much), he says his pacemaker will save him next time so...fat chance. I used to smoke so I know how hard it is to quit(then it's great after you get over it), but it's hard to see the death wish of people who even had warnings and continue. Clay can't get out of it now, he's received his sentence, we were hoping Jeff would come and see how a man faces that...to try to scare him away from his Newports....but alas he didn't come...we can only speculate what Jeff was afraid to see. Hank was sad Jeff didn't come along with us, (so was I, we're gonna lose Jeff this way too; it's beyond my understanding to know why people do what they do).
We did get Clays mind off it for a while, in fact we got some pretty good belly laughs out of him. His wife also came up after 8 years and it was good for his kids too,...to hear their dad calling their mom "babe" again. It has mended that breakup completely. I'm glad she's back too as she can comfort him in ways regular friends can't.