(Cesar Millan and his wife)
(Cesar and "Daddy")
You know with the corporate media whipping up hatred in the general consensus I can only say thank God for the Dog Whisperer, at least there is something on TV that shows there is value in these people.
One can only wonder if CNN could drum up all this hatred if all the Americans had secure jobs with pensions, medical, and a secure future, (as we used to in the days before NAFTA and the WTO).
It's very unfortunate because really, it's the war of the rich on the poor, same as it's always been, and while the super rich become the hyper-rich off of labor arbetrage, they sit back and laugh as they watch the poor be turned against the poor and fighting each other...safe in the knowledge that as long as we're fighting with each other, we'll be distracted and won't be fighting them.
Waste our energy, that's the ticket.
I think about the southwestern states, who are these people...well, before it was arizona and New MEXICO(what's in a name), it WAS part of Mexico, indigenous people with farms and family ties thicker than borders for generations. I love people from other cultures, too bad we don't celebrate that more, instead of allowing the TV to turn the general consensus against them.
With regards to Mexico specifically, us rrrrregular folk on both sides of the line have been attacked by elite corporations looking for cheaper labor so it's more money for themselves...upsetting their economy and ours both...driving them from their farms and driving us out of work(we've lost millions of jobs to Mexico...and it wasn't because corporations wanted to raise their standard of living by driving millions of them off their farms and offering shit wages so they can't even afford to buy what they're making...of course they're coming across the border to their old native homeland, LOOKING FOR A WAY TO GET FOOD...what would any of us do for food?
What would you do to get food?
Plenty of blame to spread around from the bought off in congress and presidents, to the hate mongering media...what ever happened to "we won't get fooled again?"
...Who took your job and drove 8 million Mexicans here?...here ya go, here's one fuckin' enemy, arguably the biggest when it comes to outsourcing and labor arbetrage...thank the man: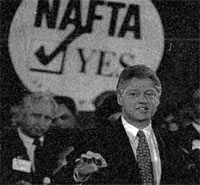 We're losing our fucking shirts and giving it all to the rich, don't let them get you to blame your fellow NAFTA victims.
Course I'm only one voice against a media controlling the thoughts of millions...so yeah, if I can't change the world, maybe I can put a bug in a few people's ears..that maybe my potato hasn't been bakin too long, maybe the other poor people arent our enemy, maybe it's those who have ripped us all off out of our jobs, our medical, our Social Security savings, and our safe future...
We need to get our shit together, or we will SURELY lose it all...that is our trajectory this way.
As soon as someone says "maybe there's someting to this," they'll notice a plethora of info about it on the web...I'll leave this off with a few quotes:
From:
Americans Are Mostly Blind to Mexican Workers' Plight.
Will Ariz. Law Trigger Change?
SOURCE
First, the fact remains that
U.S. elites are still unwilling to recognize the utter catastrophe that NAFTA has represented for working people on both sides of the border

.
In particular, they are seemingly unconcerned about repairing the social and economic damage caused to Mexico by NAFTA.
Second, demagogues like Patrick Buchanan and Lou Dobbs, while accurately depicting the devastation caused on the U.S. side of the border to discarded workers and abandoned industrial communites by corporations seeking low-wage labor,
have helped to blind many Americans to the suffering on the Mexican side, which has fueled immigration.
While Buchanan and Dobbs issued comparatively mild criticism of Corporate America, their incessant demonization of Mexican immigrants for stealing American jobs and allegedly committing a host of other evils has taken root among wide sectors of white America.
thanks to the likes of Buchanan and Dobbs, many Americans citizens seem inclined to view Mexican immirants as competitors for scarce jobs rather than fellow victims of transnational corporations.
...[BEFORE NAFTA]There were 2.5 million Mexican illegal immigrants in the U.S. in 1995; roughly

8 million have crossed the border since then

[Yes,

THERE IS A CONNECTION

].
In 2005, some 400 desperate Mexicans died trying to enter the U.S.
[baddy's note: NAFTA went in in 1994 (actually 12/1993), the subsequent surge to the US after 1995 clearly shows the direct impact of NAFTA....our politicans and multinational corporations have driven them here at the same time taken us out of work...we need to fight the bastards that are hurting us, not our fellow victims. If we con't collectively realize this and take action, then we will continue to lose everything until we're in the third world...that will be the result if we let the TV control us...there can of course be no other outcome.]
__________________________________
From:
Globalization vs. Democracy
Are U.S. Victims Ready to Strike Back?
[url]SOURCE[/url]
"However, the three-decade triumph of corporate globalization over democracy may now be facing its most broadly-based and deeply-felt challenge in the U.S. The combination of falling wages, shrinking benefits, rising insecurity about both work and retirement, and the incessant flow of family-supporting jobs to China and Mexico have ignited a grass-roots rebellion...
Globalization's chief impresario, author and New York Times columnist Thomas Friedman, has claimed that if nations want to become competitive and attain prosperity, it means donning what he cheerfully calls the "golden straitjacket," that is accepting a regime of low wages, privatization, and deregulation...
In Mexico a similar process of polarization has occurred. Wages have fallen at least 25 percent, according to a Carnegie Endowment study. Low wages in Mexico (typically 60 cents to $1 an hour in U.S.-owned maquiladora plants) have exerted a strong allure to U.S. corporations, with over one million jobs lost since NAFTA's enactment, according to the Economic Policy Institute. At the same time, the removal of protections for Mexico's agricultural and retail industries, accompanied by the aggressive entry of U.S.-subsidized agribusiness products,
has driven some 1.5 to 2 million farmers off the land.
While low-wage employment in maquiladora plants along the border mushroomed after NAFTA's enactment, Mexico is now being increasingly bypassed in favor of even more repressive and lower-waged China...
...
...opposition is not new, it has just reached a critical mass that can no longer be ignored. For example, NAFTA was opposed by 64 percent of Americans, but was promoted by the full weight of the Clinton administration, corporate America, Mexico, and virtually all of mainstream media.
...Obama and Hillary Clinton engaged in an escalating battle as to who could come out tougher against NAFTA, other trade agreements, and the transfer of jobs to low-wage foreign sites. Exit polls showed four of five voters in Ohio's Democratic primary believed trade deals with other countries took jobs away from their state. Both Obama and Clinton wound up advocating a re-negotiation of NAFTA—although this resulted in news reports that both Obama and Clinton staffers sent reassuring messages to the Canadian government that these comments were to be viewed only as campaign rhetoric.