Disco Boy wrote:
Caputh's idiocy GLARES through once again. Quoting someone PROPERLY is important whenever you're trying to make a point. But instead, to fit his own socialist agenda, he picks misquotes to try and reinforce his points that ultimately go nowhere, as usual.

At the same time, he denies the OVERWHELMING evidence (not just a 3 second clip) that I've posted MULTIPLE times, very clearly showing that most of FZ's beliefs were Libertarian-based.

I actually quoted you quite accurately - or was there something important I missed? I also quoted Farage quite accurately on everything he said that had to do with my original summary of his views which you had incorrectly described as a misinterpretation.
Please provide a link to your transcription of the entire Frank Zappa interview contained in your signature that supports your view.
Disco Boy wrote:
So because there are SOME former
UKIP
members/candidates that are either racist or who say stupid things, that that automatically discredits the entire party?! Farage has already covered the elimination of said members/candidates in the initial video clip you provided. So I have no idea why you post quotes (whether they're correct or in context or not, I don't know?!) from these particular people?!
As Marta Andreasan, who quit
UKIP
in 2013, put it: "Under his leadership - and I have questioned his leadership obviously a number of times - the party has become a dictatorship. This is a Stalinist way of operating and he doesn't care about the membership or the grassroots."
She also claimed that Mr Farage did not want "intelligent, professional" women in key positions in the party."I am the only female MEP. He doesn't try to involve intelligent professional women in positions of responsibility in the party. He thinks women should be in the kitchen or in the bedroom."
http://www.bbc.com/news/uk-politics-21355197
. Once again, Farage denies ever having said this.
BTW, as regards the expulsion of "idiots", three have resigned or been expelled since: Silvester, Henwood and Helmer. The rest are still there, although Godfrey retired for reasons of age in 2013, he's still one of Farage's best friends and main advisers. Farage is not standing for president. He is the leader of a party whom he represents and whose views he personally embodies. The fact that he bizarrely claims to have never heard of e.g. Silvester before in the LBC interview linked to above, even though he was an official
UKIP
candidate does not add to his credibility
I presume Farage is, however, aware of
UKIP
's present European election posters...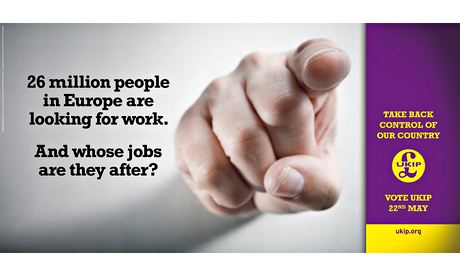 The above proved racist enough for the British Asian
UKIP
candidate Sanya-Jeet Thandi, who resigned from the party as a result, but presumably, at least according to Disco Boy, she's just a "fucking idiot" for finding it so.
Caputh wrote:
However, Farage is at least realistic on his chances of receiving votes from ethnic minorities : "We will never win the nigger vote. The nig-nogs will never vote for us."
http://www.dailymail.co.uk/news/article ... -jibe.html
Disco Boy wrote:
Nigel Farage did NOT state that, you little weasel.
Oh, he denies it, as I pointed out above, but
I
think he did. And so does Professor of History Dr. Alan Sked (to whom he said it) and the British PM, David Cameron.
I suppose it's hardly surprising that you fail to see the racist, homophobic and sexist elements in
UKIP
and Farage's views as you also failed to see the negative aspects of the politics in Mussolini's Italy, Pinochet's Chile and the Neo-Fascists in charge of Hungary or indeed the inhumanity of child labour in 19th century Britain.
In fact,
in your particular, unique case
I think SPACEBROTHER may have at last have received the answer to his question. So long as a party, movement, system or politician promotes your version of free-market capitalism you are prepared to condone, ignore, apologize and occasionally express support for any racist, homophobic, sexist, anti-democratic, repressive, exploitative, murderous policies they may otherwise propagate.
In fact, you are a mirror image of a so-called socialist trying to defend the government of North Korea, Stalin or Mao.
That's all I have to say about Farage...