"Busted: Ron Paul racist rant caught on tape"
http://www.youtube.com/watch?v=B6Cn4svUfd0
"If we repealed most of the laws on drugs and the UNFAIRNESS in which blacks are treated, it would be a big improvement."
"Inner city folks are treated UNFAIRLY. Blacks make up 14% of those who use drugs, yet 36% of those arrested are blacks and 63% of those who end up in prision are black. This has to change.
"If you're rich you get away with it. If you're poor and from the inner city you're more likely to be prosecuted and convicted."
Rosa Parks* is one of my heros, Martin Luther Kink is a hero because they practiced the libertarian principle of civil disobedience and non-violence."
I would pardon all whites and blacks for non violent drug crimes.
I've heard democrats fearful of RP attack him for voting against an 18, 000 award for Rosa parks action, citing this as racism. He voted against it because it is not in the constitution to spend 18, 000 of taxpayer money on such awards. I agree and further say if someone wants to contribute to something in memory of Rosa Parks' actions, write a personal check and send your own money in, and dont force me to unconstitutionally pay for something I didn't freely decide to pay for. Same for the fearful democrats who attacked him for not voting for the unconstitutional sending of taxpayer money it Israel for schools. We have out own kids to educate, if somebody wants to get out their checkbook and send money to Israely schools, be my guest, but send your money, not mine.
But really it's a downlevel issue...one might cite Obama's bombing of thousands of innocents in Pakastan, Afghanastan, Yemen, and so on discrimination against people in other countries that don't like us invading them...I suppose one who knew ahead of time their vote was going to be used for such unfair bombing, but voted for the bombing anyways (to get obama care and put the insurance companys in charge of our health care), could be called something...for example, I define evil as knowing ahead of time that people will be hurt by ones actions for personal gain, but going ahead and doing it anyways, as the most pure definition of evil. And a question may be how strong is evil that results in the deaths of thousands of innocents. Worse yet when there is no remorse, when one goes on to defend their evil actions and invite others to join them.

"The Reality of Lesser-Evil"

IS THIS CHILD DEAD ENOUGH FOR YOU?
by CHRIS FLOYD
To all those now hailing the re-election of Barack Obama as a triumph of decent, humane, liberal values over the oozing-postule perfidy of the Republicans, a simple question:
Is this child dead enough for you?
...
Is he dead enough for you?
Dead enough not to disturb your victory dance in any way? Dead enough not to trouble the inauguration parties yet to come? Dead enough not to diminish, even a little bit, your exultant glee at the fact that this great man, a figure of integrity, decency, honor and compassion, will be able to continue his noble leadership of the best nation in the history of the world?
Do you have children? Do they sit your house playing happily? Do they sleep sweetly scrunched up in their warm beds at night? Do they chatter and prattle like funny little birds as you eat with them at the family table? Do you love them? Do you treasure them? Do you consider them fully-fledged human beings, beloved souls of infinite worth?
How would you feel if you saw them ripped to shreds by flying shrapnel, in your own house? How would you feel as you rushed them to the hospital, praying every step of the way that another missile won't hurl down on you from the sky? Your child was innocent, you had done nothing, were simply living your life in your own house — and someone thousands of miles away, in a country you had never seen, had no dealings with, had never harmed in any way, pushed a button and sent chunks of burning metal into your child's body. How would you feel as you watched him die, watched all your hopes and dreams for him, all the hours and days and years you would have to love him, fade away into oblivion, lost forever?
What would you think about the one who did this to your child? Would you say: "What a noble man of integrity and decency! I'm sure he is acting for the best."
Is that what you would say if shrapnel from a missile blew into your comfortable house and killed your own beloved little boy? You would not only accept, understand, forgive, shrug it off, move on — you would actively support the person who did it, you would cheer his personal triumphs and sneer at all those who questioned his moral worthiness and good intentions? Is that really what you would do?
Well, that is what you are doing when you shrug off the murder of little Naeemullah. You are saying he is not worth as much as your child. You are saying he is not a fully-fledged human being, a beloved soul of infinite worth. You are saying that you support his death, you are happy about it, and you want to see many more like it. You are saying it doesn't matter if this child — or a hundred like him, or a thousand like him, or, as in the Iraqi sanctions of the old liberal lion, Bill Clinton, five hundred thousand children like Naeemullah — are killed in your name, by leaders you cheer and support. You are saying that the only thing that matters is that someone from your side is in charge of killing these children. This is the reality of "lesser evilism."
http://www.counterpunch.org/2012/11/09/ ... h-for-you/
____________________________________________________________
Obama victory infuriates Pakistani drone victims
(Reuters) - The roars celebrating the re-election of U.S. President Barack Obama on television give Mohammad Rehman Khan a searing headache, as years of grief and anger come rushing back.
The 28-year-old Pakistani accuses the president of robbing him of his father, three brothers and a nephew, all killed in a U.S. drone aircraft attack a month after Obama first took office.
"The same person who attacked my home has gotten re-elected," he told Reuters in the capital, Islamabad, where he fled after the attack on his village in South Waziristan, one of several ethnic Pashtun tribal areas on the Afghan border.
"Since yesterday, the pressure on my brain has increased. I remember all of the pain again."
In his re-election campaign, Obama gave no indication he would halt or alter the drone program, which he embraced in his first term to kill al Qaeda and Taliban militants in Pakistan and Afghanistan without risking American lives.
Drone strikes are highly unpopular among many Pakistanis, who consider them a violation of sovereignty that cause unacceptable civilian casualties.
"Whenever he has a chance, Obama will bite Muslims like a snake. Look at how many people he has killed with drone attacks," said Haji Abdul Jabar, whose 23-year-old son was killed in such a bombing.
MORE:
http://www.reuters.com/article/2012/11/ ... A020121108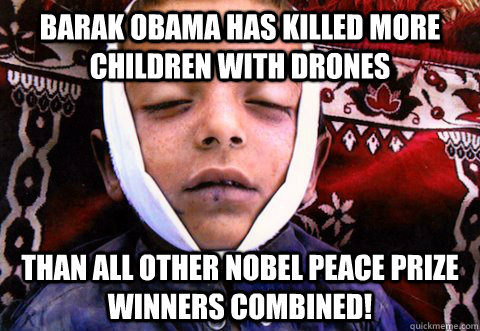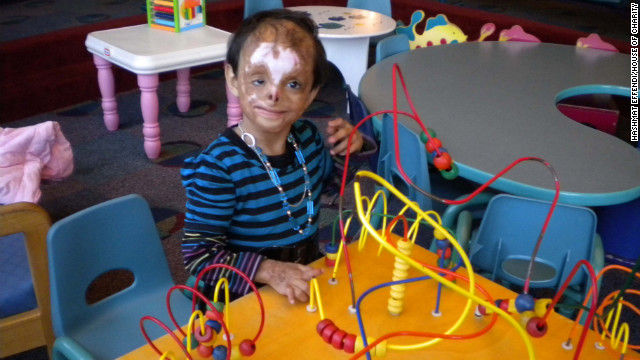 Well, at least the democrats got obamacare out of it.
And if you ask some hard core democrats why these innocent childen died, what was the reason, what did ther get out of it... the answer will be a Ron Paul attack.