It's rather interesting....Below are segments of
appropriations
voting from Obomba, Hillary and Kucinich.
Appropriations are votes on where the money is going, and below is the Pentagon budget voting and authorizations for war borrowing, (the money for the wars is all being borrowed for the kids to pay back with interest; if it were paid for now, taxes would jump now and the sheeple wouldn't let the cronies do their bombing...the sheeple have to be fooled).
There was a big American Idol show in the '08 elections about who was better, Hillary or Obomba, but you can see below
their war voting
(and other spending votes),
is IDENTICAL

.
Which identical voting record is better?
Below I'll also post Kucinich's record, as you can see it is mirror OPPOSITE to the war cronies Hillary and Obomba...
The war party had it covered either way as Kucinich was shut out of the debates.
The Democratic party gave Hillary and Obomba 23 minutes each in their debates and Kucinich 4 minutes
(I timed it), so the sheeple got 46 minutes of identical bullshit from Hillary and Obomba, to 4 minutes of truth from Kucinich...
...and that's all it took to fool the sheep

,
all they could see was Hillary and Obomba as most of the "debate show" was Hillary and Obomba blabbering...
...so we got more war and job loss rather than bringing the troops home and exiting NAFTA and the WTO to bring the jobs home, (while in these awful trade agreements, the jobs will not return until there is again cheap labor in the U.S., just the way the cronies designed/controlled it).
And that's how the rich control the sheep....they even got cheerleaders.
"And here comes the ice pick in the forehead."
Hillary's war voting...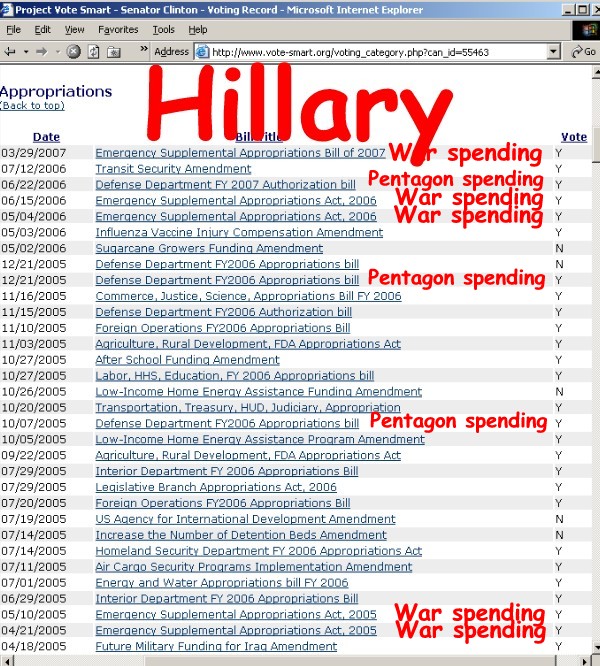 Obomba's war voting, it's
identical
to Hillarys above...this made it obvious what Obomba was going to do...regardless of what his flock said), there was NO question about it, nor any reason to get blindsided...the proof is right here, the rubber meets the road...retrospective voting: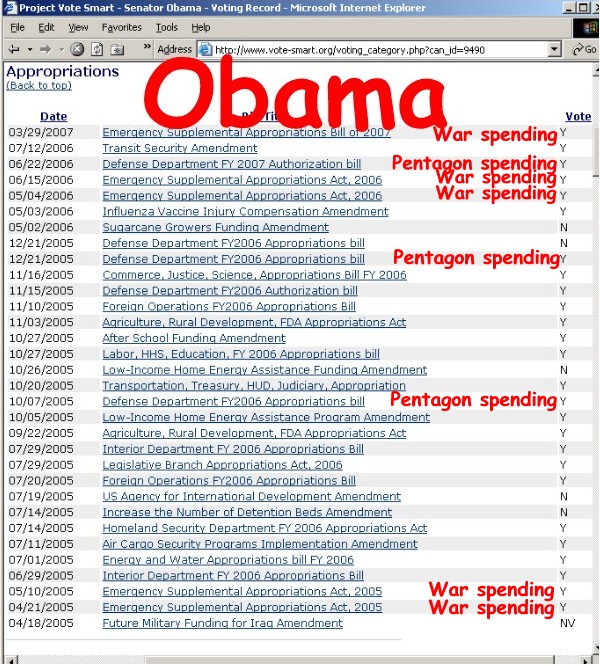 And interestingly enough...Kucinich, who the Democrats shut out of their own debates so the sheeple wouldn't see him and get any ideas about nominating him...lol, "sheeple control"...
His record is mirror oppostie the bombers above, (and Ron Pauls record is similar to Kucinich's below, in fact Kucinich said he want's Paul for a running mate)...
Kucinich's anti-war voting record, (the order is different as Kucinich is in the House, Obomba and Hillary's records are from the Senate)...