http://globalia.net/donlope/fz/videography/1965-69.html
Take the screen shots of the September '67 Royal Albert Hall performance for example, is there really footage out there somewhere?
I guess there has to be because there are screen shots but is it available to watch anywhere?
I know that a lot of the screen shots on this link are of footage that is well known but there looks like some gems there too.
Love this shot of the JCB by the way;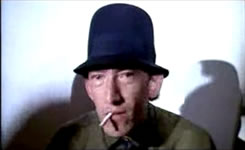 _________________
"drums are too noisy, 'n you've got no corners to hide in"