Batchain1001 wrote:
Oh, what I'd give for just a spark of your optimistic enthusiasm, baddy, but it just ain't there and my own cynicism is fuled by what I see in real life: A population who have no objection to, and even
preference
for, seeing in-depth coverage of "celebrity news" presented
as
"news". How the fuck do you wake such a coast-to-coast pack of sheep whose whole understanding of reality is
matrix-generated
and so unshakable? That degree of voluntarism is something that even "voluntarism" falls far too short of describing. It would be as rewarding as trying to wake the dead to stir even the smallest ripple in it. Nobody knows, nobody wants to know, nobody sees any reason to know and the most obvious consequence of that is that nobody would take the least bit kindly at all to being vexed by anyone trying to put a lance in their unawareness. The
hypnotic indoctrination
has gone on far too long for any unwelcome boat rocking.
There can be campaigns to force the governing powers
listen
but with nothing but more effective than
paper planes
attacking them they'll do nothing more than laugh and continue the status quo -- which itself actually does change to become worse.
Only hoping I'm full of shit,
--Batchain
Hi Bat,
Well, I can understand why you feel that way, but quite frankly you're helping the elite, you're a big help to those you hate.
I'm your friend, we go places together, and you know who I am and that I wouldn't bullshit you. With that said, I'll tell you right in the eyes that we NEED your help.
The elite need to stay in power, they gotta give a lot of money to the top 2/3's of the Democratic and Republican party politicians who will represent them... These politicians then use this money to buy TV ad's to stay in power themselves...the self licking ice cream cone.
They stay in power not only because of people who fall for the TV ad's and vote for them, but they stay in power also because many people stay home and don't vote for the good politicians, (the enemy's of the elite). Many people help the elite by telling others that "it's not worth it to try, I can't do anything about it," (you only can't do anything about it if you don't do anything about it). Because other people hear and read that, your negativism spreads, helping the elite maintain the status quo, (Bat figures it's useless, so why should I try). The top 1% stay that way exactly because of uninformed and misled voters, purposeful "lesser evilism" voters, and apathy causing potential voters to stay at home and NOT vote for good politicians, (their enemys). We help or we hurt, but we can't be neutral.
Chomsky's quote is worth requoting, in these days they are words to take to heart:
"it is imperative that an aroused public does not come to understand the workings of the corporate-state system."
It's imperative to the elite that we stay unaroused...which you seem to be.
____________________________________________
So tell me, what's the cost of changing one's outlook look from negativism to activism?
In the first place, failing to oppose those who drop bombs on baby's makes one complicent. I for one don't want to be guilty of killing any babys...and once one realizes what their actions are enabling, one can no longer morally stand by and do nothing. What sort of person would not stand up for a baby being killed? That is what's at stake here...and if one jumps the fence and starts working against the elite, they know about themselves that they are standing up for their fellow humans, instead of rolling over and letting the elite bomb them. It feels a lot better internally to know you're helping humanity, instead of hurting humanity. And ultimatly, there is no difference between a President who votes for baby killing, a Senator who votes for baby killing, or a citizen who votes for baby killing.
What does it take to join the force for good? Well, you still get to grumble, piss, and moan just like on the dark side (I know, I spent a
lot
of time on the dark side, years), but the message is slightly different. The message is to piss and moan to show your friends what must be changed, and to inspire them to stop helping evil, and start helping good. The other component is to start voting for folks who are not on the corporate take, who are for justice to humanity, we DO have many such candidates.
I think citizenship requires at minimum that people go out and vote for good candidates, and against bad ones. Possibly in addition to that, that if they know things about asshole candidates that they become NOT be afraid to speak up when their neighbor is falling for the big money TV ad's. Don't be afraid to tell them for example that Kerry is an asshole, no matter how in vogue it is for the ignorant to be voting for his version of baby killing, (sending 2 more divisions to Iraq). Besides,many times when a neighber says something to you such as "Kerry is good," they are REALLY testing their own opinion on you, to get confirmation if it's valad or not...if you instead respond with "What' so much better about a dead Kerry baby than a dead Bush baby?"... well, the situation has changed, your neighbor got your opinion, and elite have lost another helper. Never underestimate the power of your words, whether they be positive OR negative, (fo rexample in my positive post above, you came along and countered the positive energy with the negative "it's no good to try."
Other people read what you wrote,
the overall effect was to work against your friend who was trying to do some good. Now I know that wasn't your intention, you were just reporting how you honestly feel...but you can see from that how
everything you do matters
, the one thing you can't do is stop the world and get off. Especially in politics, you can't say or do something that doesn't matter.
The best paper airplaines are the ones aimed not at the politicians, but at your friends and neighbors. We get so mad at the rich politicians in power, but in truth, WE VOTED THEM IN. Shouldn't the blame for the wars and the outsourcing be realistically blamed on our friends neighbors who repeatedly fell for the billion dollar advertizing blitzes and voted these assholes in? As tilted towards the rich as our remnants of Democracy is, it still does work...With very few exceptions
we voted all the assholes in
who represent money, they used their money to coax everyone into voting for them, they certainly didn't vote themselves in.
Finally Bat, how do you wake up the sleeping sheep you referred to? Well, how asleep are they? Maybe not very. Maybe most of them feel as you, "why bother to try." If that's the case, then to know what will wake them up, think about what it would take to change your own message a little bit.
In the end what will certainly wake them eventually, (if their friends still haven't been able to), is the following:
1. Outsource all their jobs, don't let them work..
2. Take away their health insurance and cut their Social Security.
3. Push them into poverty so they can't buy any FZ albums.
4. Take away their food.
5. Kill tens of thousands of baby's in their name.
6. Send thousands of them to war to kill thousands of good people overseas.
7. Give them a trillion dollar Nat'l deficit to make sure they all go deeply in debt.
8. Give them a trillion dollar war deficit to drive them deeper in debt.
9. Oppress and kill a lot of poverty stricken Muslems so they revolt and fly planes into our buildings.
10. Send the National Guard AND ALL IT'S EQUIPMENT to kill Muslems so when a hurricane hits, we can't respond.
11. Take recovery money for hurracanes from cuts in domestic spending while boosting the pentagon budget to kill more overseas in our name.
12. Provide billions in taxpayer funded aid to Israel so they can buy our planes and drop American bombs on Palestineans and folks in Lebanon.
Well, you get the idea...the list goes on...
So...we see a handful of friends on our forum, who activly post information, and who haven't "given up."
I'll ask you as a personal friend Bat, will you help us? We really do need you...and the more you help us, the more badly we need you.
And that's the truth.
Why be on the dark side and allow cynicism to sabotage the efforts of those who are trying to bring good change? Hell, there ain't a whole lot of wool over your eyes anyways Bat, you're already 7/8's of the way there
There's time for having fun going to ZPZ, Project Object, and Helmet concerts, and there's also time for standing up for yourself and the babys we bomb.
Will you help us Mr. Chain?
___________________________________________
Edited:
PS. Also, with a minor alteration you not only can feel better, but you're not venturing alone without help, you're joining a pretty nifty group. Below is a picture of a stack of envelopes about to go out the door. It's not paper planes to random sheep, it's a concentration of addresses of activists who live near me. They are all people who were marching in an antiwar protest in Hartford, they all believe they "can do something about it," and they're right. Each letter will cause three letters to the editor to the three major CT newspapers, getting our voice into hundreds and hundreds of thousands of homes, (at a time when an asshole elite Senator is on the verge of losing the nomination), Activists, at any leve, are a pretty nice group to join.
Also, for people who truly feel they can't do anything about the elitist control over their lives, I say you can do something about it if you just do something. I did something about it, there's a box of envelopes on my coffee table, and there's no difference between me and you. "I can't do anything," is what the rich enjoy hearing you say.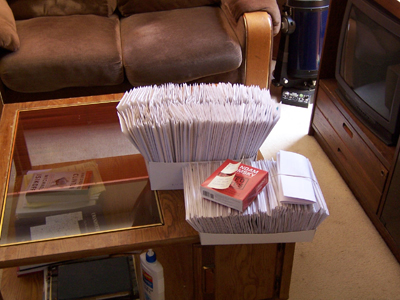 For anyone who thinks they can't do anything, if you had a clipboard and had been at the protest with me, there'd be twice as many envelopes on my coffee table.
_________________________________________________
Meanwhile, at another march, another nice group of people to join