Hello to The Forum Killed Arkay, Caputh, Plook, THE CAPTAIN!, and anyone else who said hello that I mighta missed.
To answer some questions, I'm doing ok in my "new" job, now 14 months in and half the time I actually know what I'm doing. The other half is still terror though...which is a lot better than last year when it was nearly all terror.
School's going fine, I'm getting into the more interesting programming classes now that the groundwork semesters are done. Interesting VB class. Last weeks homework was to write a multiplexer that will mix two frequencies and display the two input frequencies as well as the the resultant mixed frequency, (inputs blue and green, resultant is red below):

This week the homework is to write a spectrum analyser (FFT), that will look at the resultant frequency and extract the two frequencies that formed it. It uses complex numbers, yeah the real + imaginary numbers...just like Joe's guitar notes.
It's really interesting homework, hard, but almost like play.
Everything changed last year though, between the OT and the school, there's barely any time left for Rose, so we cherish a Sunday afternoon
if
we can get it. Much of the old routine has fallen by the wayside, a necessity of both time and energy managment; if I have any of either left, I do homework.
I have now 45 credits out of the 66 I need, so I'm getting there though.
Kudo's to tiboudre for his comment above on the Fed, not a lot of people know this or the controlling implications of it. I think it was Rothschild [one of the Federal Reserve's owner families] who said "Give me control of a nation's money supply, and I care not who makes it's laws." You probably know about this already but jic:
http://www.youtube.com/watch?v=HfpO-WBz_mw
I agree with Disco Boy on the cliff, it's just a matter of "when." and that, nobody knows. It's going to be terrible....but you know what? It will stop the wars as with our kids so far in war debt now, no one will lend our kids more money to support further warring; the corporate/lesser-evil bombing will stop.
Maybe we deserve it...we get the country we vote for...if we vote to go off a cliff, we deserve to go off a cliff.
I'm beginning to think additionally that we're going off it in slow motion, but that can be sped up to a free fall by any one of myriad of possible unforseen events. IMO, If the market falls through about 56-5800, we're not coming back, (historically, for 40-50 years).
Although the cliff is quite real, I do think it is also being used as a scare tactic, or a threat that raising taxes (Bush-Obama tax cuts expiry), on the rich will cause the fall...that way the herd will be afraid and want to keep the tax cuts going for the rich.
A comment for Caputh... my post wasn't about Paul or Kucinich per se, I just used them as examples. The point was the iron grip the rich and powerful have over the herd of lesser evils and apathetics through the media. The 08 the elections cost a billion dollars (lotsa favors to repay), and this year just the presidentials alone cost 4 billion. Wow, quardrupled the TV time, 4 billion, that buys a lot of dumbing down.
The crux of the biscuit
is that the elections are lost way before November...the people lose in the summer when they fail to go out and vote to nominate one of the candidates who care about them.
If we don't actively go out and nominate a good candidate in the Summer, we're not going to have a good candidate to vote for in November...and that's the way it works. Effective herd control.
Right now, the
important
elections are in the summer primaries....but typically those are overlooked.
How's an alternative to the D and R sock puppets gonna compete with 4 billion dollars? The rich have an iron grip on us through the use of the apathetics who won't oppose them, and the lesser evils who not only don't oppose them, but are the breath of life for their power over us.
I used the comedy skit above on the Daily show about RP in '12, and the DNC's attack on Dennis Kucinich in '08 as current examples, but my post was really about the RP's, DK, and the Gary Johnsons, Jill Steins, and all the other alternative party candidates that get steamrollered by the rich folks media and the billion dollar corporate D and R campaigns.
It's interesting how the alternative choices are often pretty good, but the controlled herd chooses the ice pick in the forehead by a landslide every time (and some squeal with delight...arem't they happy this year that the innocents will be killed by good Democrat bombs instead of those awful Republican bombs).
And a couple of post election links on the above: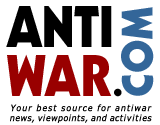 Warfare State Wins Reelection, along with Obama
Americans reelected President Barack Obama on November 6th for four more years, giving so-called "mandate" to unconstitutional war, an expanding secret drone program, codification of indefinite detention, and widespread government secrecy.
In fact, the mandate for those policies was far greater than Obama's side of the vote count. GOP contender Mitt Romney agreed with Obama on virtually every foreign policy and national security issue, from Iran to Syria, Israel to Egypt, the drug war to Afghanistan, and the pivot to Asia-Pacific
MORE HERE
________________________________________

America the Blind
As expected,
the two corporate and eternal war candidates got nearly all of the votes
, with the Libertarian's, not even 1%, and the Green Party's, less than a quarter of 1%. Through no faults of their own, alternative candidates got almost no media exposure and little funding, but their extremely poor showing will be painted by the corporate media as reflective of the negligible value of their ideas.
Once again,
the world has witnessed the passion and faith American voters have for war criminals and protectors of banksters. It is remarkable, really, the continuity of the American looting and mass murdering project.
As we enter de yo mama of all depressions, partly caused by the job outsourcing started by the Democratic Clinton, the corporate shill du epoque is also promising more jobs, but where will these be found in this d eliberately de-industrialized nation?
…

Most Americans are blind to corpses, however. They don't see any corpses, not even those draped under their own flag.
Ask people you know how many American soldiers have been killed in Iraq, for example, and I'd be very surprised if one in ten could chance into a close guess. Do you know? Ask these same people the number on Kobe's jersey, the record of the New England Patriots or the birth year of Lady Gaga.
_______________
And some really great Democrat killings this week! God Bless that Obama!
Good thing these kids are gone, some of 'em might grown up and attacked me.
Ahhh wtf, that's only 7 kids this week, we can do better next week, maybe Obama will bomb another wedding(:
I hear we're pushing for more drones and troops in there past 2024…what was that Obama said about withdrawal by Summer 2011? Oh, that musta been ear candy for his followers who believed him, (lol, some still do).…Gitmo closed? Ditto.
(The above is sarcasm of course).
US Troops Killed Four Afghan Children Who Were Tending Livestock
MORE HERE
Karzai's statement condemned the killings, saying that "repeated pledges by NATO to avoid civilian casualties" were not being met, while expressing anger at continued strikes against residential areas.
Locals reported the children were killed in "missile attacks" during what NATO officials say was a raid aimed at capturing two militants. NATO would only say that it was "aware" of the situation and was investigating the claims.
US commander Gen. John Allen however has already issued a statement offering "condolence payments" to the families of the slain children, saying that officials were going to meet directly with them to discuss the payments.