I'll write a review in a day or two...but for now, here's the setlist from last night's better than expected and AMAZING show (not necessarily in exact order):
A Pound For A Brown
Call Any Vegetable
Let's Move To Cleveland
Let's Make The Water Turn Black
Harry, You're A Beast
Oh No
Son Of Orange County
More Trouble Every Day
Echidna's Arf (Of You)
Holiday Medley:
Overture to Holiday In Berlin
Holiday In Berlin, Full-Blown
Aybe Sea
Little House I Used To Live In

Big Swifty
The Idiot Bastard Son
The Air
Peaches En Regalia
Evelyn, A Modified Dog
Debra Kadabra
Carolina Hardcore Ecstasy
Village Of The Sun
Pygmy Twylyte
Dummy Up (including Grandmaster Flash & the Furious Five's
The Message
!!!)
I'm The Slime
Florentine Pogen
Sofa No. 1

Montana
_________________
ONE NATION UNDER SOCIALISM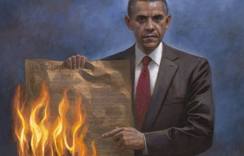 Because of Obamination's spending & socialist BS, America and much of the world will endure one of the worst depressions in history in
5...4...3...2...