Warmfest was a good time in Indianapolis. This was a far cry from Bonnaroo or Lollapalooza or Summerfest... but not as much of the hellscape that those all can be too. It was relaxed, which was good because we drove a marathon 4 hours there, stayed 8 hours and drove 4 hours back. Today is for recovery.
They had several food trucks, which at some festivals is an added attraction, but here the only ones that seemed good were the Pierogi's and the Lobster Rolls, the rest were variations on crap. I probably should have got a pic of the Pierogi truck, but instead we have a pic of the menu with the Frito Bag that they pour ground beef n stuff into.
I wanted to check out "Why?", but we forgot about the difference in time zones and got there right after they finished. We saw most of Sebadoh and they were better than I remembered them. They were kinda cool in the 90s and one tune about Indie Rock got the crowd going.
Half Japanese is a band I've heard a tune from here and there, but never seen before. I think it was great that even though the crowd for them was small, they were into it and that in itself is kinda weird. Their disjointed outsider art stuff can be annoying, but overall they won over the crowd.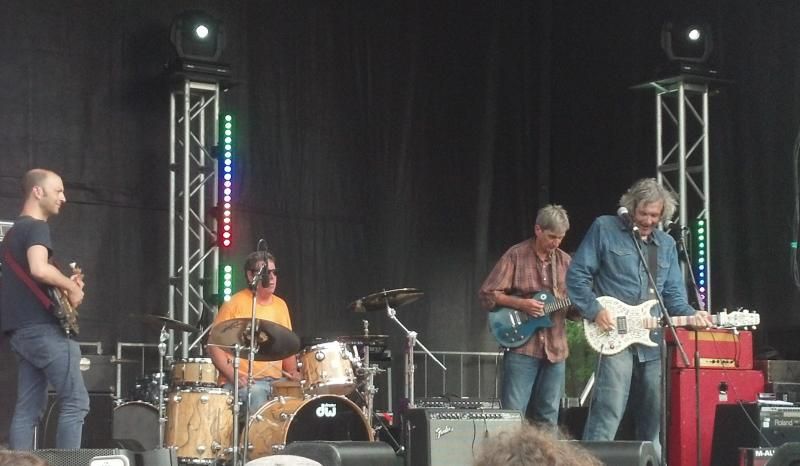 Looks like he mighta made a few mods on his bass
They had a great look of determination and fun, but also strangely concentrating like they were studying for a really difficult test that might go bad.
I've heard alot of versions of Around and Around, but never one as confusing as this, as though I wasn't sure why they were playing it. It didn't groove, it didn't jam, it just sorta commenced, in an honest "I meant to do that" kinda way.
After his set, he rolled out his suitcase, sat down and started getting his pedals together.
I didn't know alot about Mutemath, but enjoyed their stuff. Enough low end to make my nose vibrate.
Kevin Barnes stood around on stage holding his guitar for about a half an hour before of Montreal started.
For most of their show, it looked like this.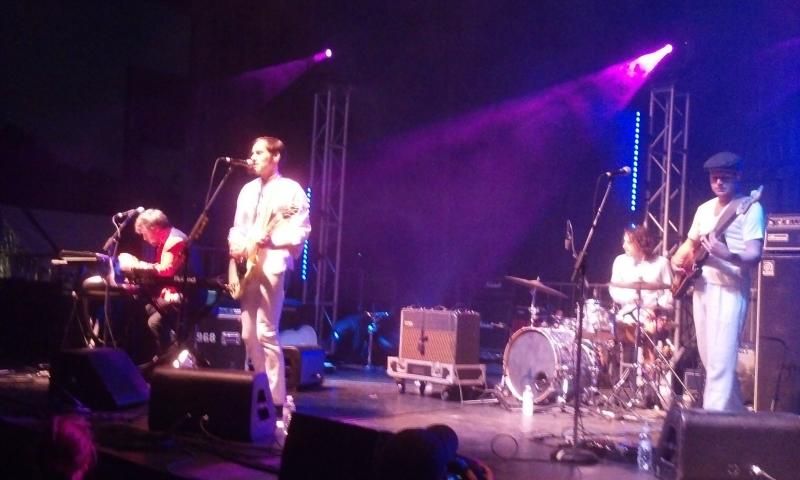 But, every other song or so, other characters joined the stage, such as these guys
The balloons went across the audience for quite a while
I couldn't quite figure out what was up with these folks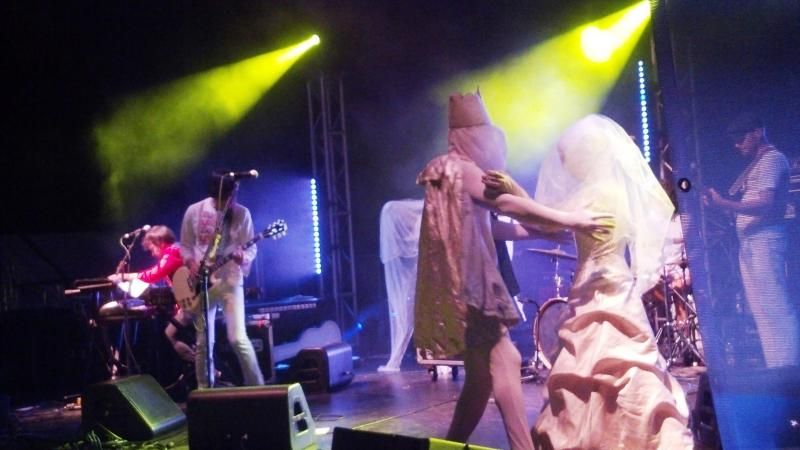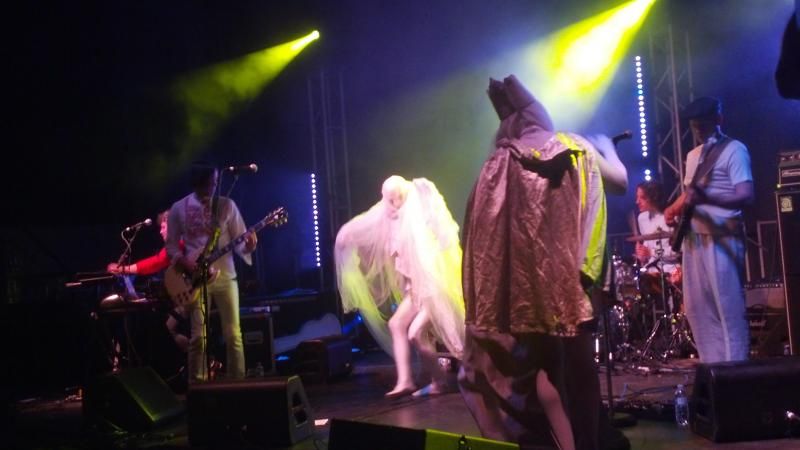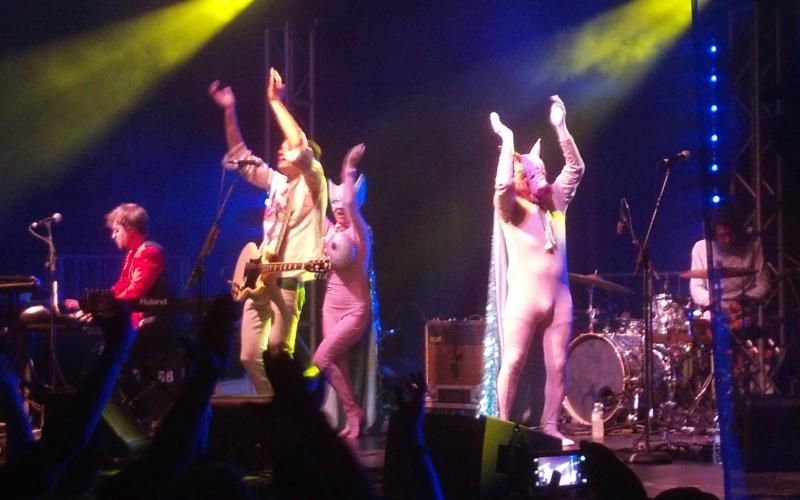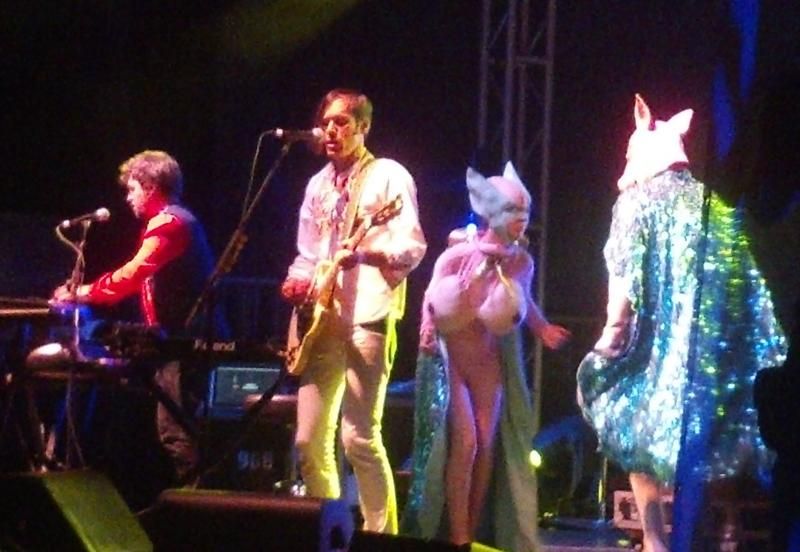 That wasn't all of the characters. We were a bit back, on the right, and I'd run up and take a pic now and then, but I didn't even write down the tracklist. So, from memory...
Requiem for OMM2
Spike the Senses
Wraith Pinned to the Mist
Bunny Ain't No Kind of Rider
Heimdalsgate Like a Promethean Curse
Coquet Coquette
She Aint Speaking Now
Grodlandic Edit
Suffer for Fashion
The Party's Crashing Us
Oslo in the Summertime
For Our Elegant Caste
She's a Rejecter
Disconnect the Dots
I'm sure I forgot at least 1 or 2 titles and there were probably that many that I didn't recognize. KB works hard as a guitarist and tries to condense some fairly complex mixes into a stage format. Sometimes, I hoped for a couple more instruments to fill out the mix, but thats picky. With all the craziness, I'm wondering how this is gonna go down in October when I see them at a small theater.
Strangely, while there was the usual market areas setup to sell crap, there weren't booths set up for Band Merch. So, I didn't get any t-shirts. There was a company pressing vinyl on the spot, and of Montreal made a special pressing of a single on clear vinyl titled "Empyrean Abattoir". I got #3 of 75 made!