PenguinInBondage wrote:
At Plook's request, here are some photos of Terri. These are from The Plooks' trip to Pacifica before Terri started her cancer treatments.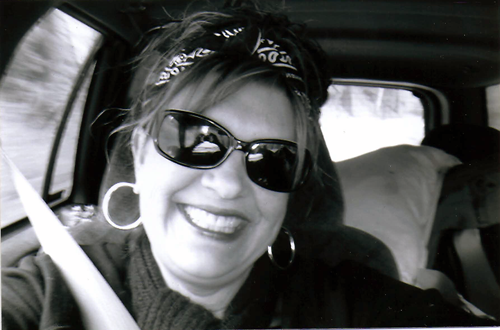 My beautiful wife Terri passed today at 11:30am Pacific Time, in usual Terri fashion the doctors were late and she checked out on the machines, the doctor said he was amazed that she was able to do that. Her Father was very pleased and she saved me from giving the order, always thinking of others that woman.
It is a beautiful spring day in Folsom California, the type of day Terri loved cloudy with sun sometimes your warm, sometimes it's cool. She even picked the day of the Grand Cardinal Cross planetary alignment, everything on time and big with her. We had several family and close friends telling stories and reminiscing, laughing more and crying some.
She was baptized Catholic so I summoned a Padre for last rights, which he performed magnificently. I gave him a hundred dollars, he said I owed nothing and I told him Terri would want his church to have it. When I went back in the room I told everyone Terri finally got my secret $100 bill I kept in my wallet for years, my daughters said that Terri had told them your dad thinks he's slick, but I know he has a hundred dollar bill in his wallet he is saving for a special occasion. It was my pleasure to use it on her.
I asked the staff when we would start and they said the doctors were late. It was approximately 11:15, I asked for the room, everyone left and I shut the door and drew the privacy curtain. Outside the clouds were obscuring the sun, so the light in the room with a large window was subtle.
I explained to Terri how much I loved her and how I have been dreaming of her every night and I want her back but that it was time to go. I told her she fought so hard and so valiantly, that it was ok and to go to her Mother, my Dad, her stepmom, all her grandparents, all my relatives, and even our good dog Bella…they were all waiting to guide her across…the machines tracking her vitals began to drop steadily, the nurse knocked and entered she tried to bring her heart rate back up, she said uho. I called my son in law in the lobby and said get everyone in quick.
All arrived in time to see her pass and as she did the clouds parted and the sun came out, I said she's gone and walked outside to see a magnificent sight of the entire area surrounded by clouds and the sun shining down on this little hospital on top of a hill.
As I looked up and imagined by wonderful wife spirit rising, a lone prison siren whaled from nearby Folsom Prison for just about a half of a minute.
That's my wife always commanding a room when she entered or left, her ability to make others feel better about themselves when they met or talked to her was magical, she had a strong dose of X Factor and people felt it in them when they were around her. I was not surprised at all by my loves exit, she was so giving she gave us something even in passing, yet another wonderful moment.
She will be celebrated on Sunday 4/27/14 from 10:00am to 1:00pm at:
The Teegarden House Event Center
731 Plumas St, Yuba City, CA 95991