i can help you: thanks to aunt google: [url=http://www.astrococktail.com/Apostolic.html]The story of the recording studio that became Frank Zappa's New York downtown playground!
Apostolic
[/url]
(A personal reminiscence originally published in EQ Magazine, 1998 as
"Laid-Back Multitrack: The Downtown Birth of Modern Recording Studio Style")
writen by "
John Townley, founder
"
first he write how he start working
Quote:
....... but first, a flashback to when I was recording for Columbia back in '65...................

...there were only eight tracks to work with (you wonder how the Beatles survived so well on that -- lots of money/time helped), and there was no separate cue system for overdubbing (honest!), .........
his start with his own studio
Quote:
By the fall of '66, I'd had it with group, recording, and first marriage, so I took some money from a small inheritance and idealistically launched out to CHANGE IT ALL... What was amazing -- I did!

First, I picked a downtown location, in the Village, as that's where all the musicians were. Be where you're comfortable. After all, only the execs were uptown. It was a loft building on 10th St. near Broadway,
his multitrack
Quote:
.....And, of course more tracks (how quickly you run out at only eight) -- we went to twelve because that was as many as Scully could crowd onto a relatively-editable one-inch tape transport in this first-of-a-kind machine they built to our specs. And faders, instead of pots (goodbye '50s sci-fi flicks), also a first, and the new-fangled solenoids...best of all, everyone could touch them all, no union, except don't spill your Coke on the board! All that, and teenage whiz engineer Tony Bongiovi (later, brother/producer of Jon Bonjovi) were enough to launch us into the ozone............
and frank finished the work on "lumpy gravy" februar 1967
and at least : "
Richard Kunc, former Apostolic Studios engineer
"
about the console:
Quote:
I recall the API console as a sea of blue Formica, a wondrous machine praised by Frank Zappa, with sparkling new arc-shaped British Painton faders..............
and the recording machine
Quote:
The prototype Scully twelve-track machine used one-inch tape. It had twelve sets of their normal full-size rack-mounted electronics, the ones they put in their mono and two track machines -- imagine twelve of those babies, each one with a complete set of knobs and full-size meter! It was just huge -- but it worked........
and: tata tata tata
the lyrics from: the dick kunc story, e piece you find on "the lost episode"
Quote:
............So I went to New York, and I got this job at this incredible twelve track studio. Well, I didn't know from twelve track, I thought four track was really hot stuff. So I went in there and they said, "Here's the board. Learn it." He go, "Your first client's coming in in five minutes." Well, my first client was Frank Zappa........
and here it is: the 12 track: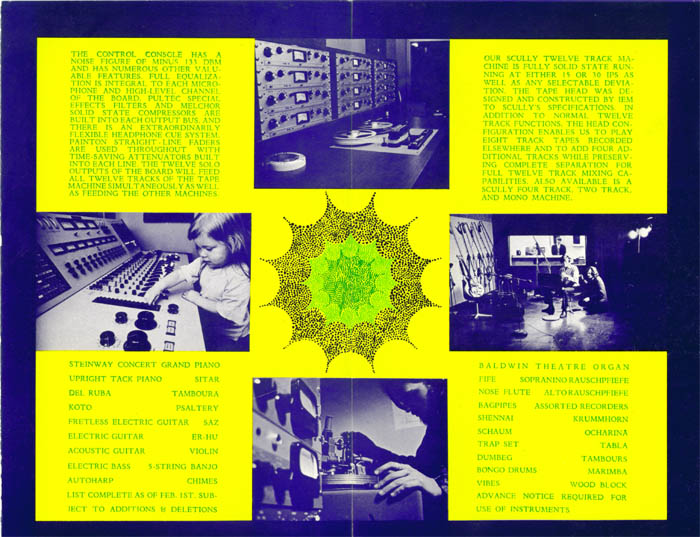 also interesting:
the story about the studio name (in the comments section)
Quote:
As a contrast to the Department of Sound & Recording at the University of Surrey here is a quote from Barry Miles about recording Allen Ginsberg in New York in the late 1960s:

Apostolic Studio (at 53 East 10th Street) was named after its tape machine, a prototype twelve-track Scully about six feet long. The rates were reasonable - $95 an hour and $115 an hour after midnight - because everyone had said that no one would go downtown to record. The studio had an in-house astrologer who sometimes decided that the signs were so bad that no recording should be done that day.
well, i did not now all this, but you found almost everything on the net