In the words of the famous Tony Curtis...
"I quit...cigarettes that is."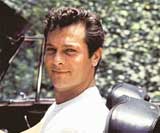 Loved 'em intensly for about 30 years. Quit about 15 years ago but had a brief relaps about eight or nine years ago.
As dedicated as I was, and as much as I thought it was a rotten idea to quit, these days I'm just really glad about not having to deal with some of the more intense drawbacks to them. Occasionally I want one, but it's a passing thought, (lol, the quit smoking product ad's on TV make me want one, and sometimes when I see someone smoking).
I feel for those who smoke, and especially those who want to quit. To them I'd send encouragement, no one could have been more addicted than I, but now I go months without even thinking of one, (and the rare urge is just a mild and fleeting thought). It's rough at first, but it's great being free of even thinking about them.
Probably when I'm 100 I'll buy a pack of Kools, I won't have enough time left to get cancer then