I understand what Pedro1 is saying, and I understand what BRAVO SIERRA is saying, and IMO there is a lot of truth to both.
However I believe the best situation would be to have good politicians in power, the ones with the good voting records...we are not there yet.
But if our
collective
morals remain imbicellic (as they are now, most don't even consider our mechanized slaughter of thousands of our innocent brothers), and our apathy maintains our blantant ignorance such that we continue to elect only the most corrupt, most corporately monied rulers with the biggest TV-ad budgets, then gridlock becomes the next best thing because it incapacitates Congress and that is the best state for a money-corrupted Congress... incapacitated so as to pass the fewest bad laws...I'll roll with you on that one BRAVO SIERRA, if that's what you're thinking.
A look at a good politicians voting record (such as "Dr. No" Ron Paul's or a Dennis Kucinich record), shows almost solid "NO" votes on almost all bills, that's because almost all bills are spawned and designed by corporate lobbiests and are bad for citizens,
(click here if you'd like to see what I mean, I think this pretty much shows why BRAVO prefers gridlock)
.
I think this has elements that go along with BOTH Pedro1 and BRAVO SIERRA's ideas, as Pedro1 knows the upper monied in BOTH partys are bad, and BRAVO SIERRA's gridlock theory incapacitates them.
The worse condition is to have the same party in control of both Congress and the administration because that is an expressway for the most vile shit to get passed. If it's all Dem, or all R, it's all bad.
But still, I don't believe a corrupt Congress that requires incapacitiation is what our founding fathers had in mind. I would rather lift the apathy and instead put some brains behind our votes and put only good people in power, they have a lot of work to do to reverse all this damage that these corporate blowboys have been doing, so I wouldn't want them incapacitated either.
I have not yet given up on getting good politicians elected, gridlock would be bad with good politicians in office...so I see the gridlock solution, but I'll try for the better way of electing good politicians....even if we're not enough interested in saving our own asses, we should still endevor to stand up for our innocent brothers whom we're slaughtering enmasse abroad...even the CIA who is running these attacks are starting to speak out that they not only are harsh on innocents, but they are enraging common Moslems into unity against the US:

June 3, 2010
Some CIA Officers Say Predator Strikes Helping Al Qaeda
Revolt of the Drone Operators
SOURCE
"Some of the CIA operators are concerned that, because of its blowback effect, it is doing more harm than good," said Jeffrey Addicott, former legal adviser to U.S. Special Forces and director of the Centre for Terrorism Law...
...Because the drone strikes kill innocent civilians and bystanders along with leaders from far away, they "infuriate the Muslim male", said Addicott, thus making them more willing to join the movement. The men in Pakistan's tribal region
"view Americans as cowards and weasels",
he added."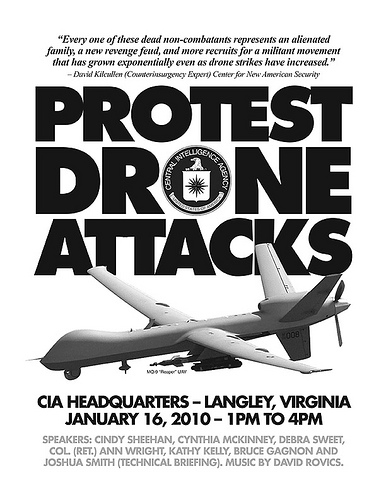 _______________
A final comment, (not in response to either Bravo or Pedro), is morally (the trump card), Obama is already a dismal failure. To all but the most morally imbicillic, the senseless mass murder of thousands of innocents (which btw fuels insurgency and recruitment), is akin to Osama's, Bush's, Saddam's or any other run of the mill tyrrants war crimes against humanity. Maybe the moral imbecile can vote for, then look the other way to the senseless killing of thousands of our innocent brothers that's done in his name, but anyone who has advanced at least to the level of moral adolescence cannot.
Quite frankly it makes me puke to see all the ignorance giving Obama a free pass on all his escallated killing. Also, Dems used to bitch loudly when Bush did it, but when Obama greatly escallated it all the Dems fell silent and now look the other way to their brother's being slaughtered in their mud huts by the super advanced, even robotic killing machine.
Not only is our mass killing of innocents OK with these moral imbiciles, but they are also too stupid to know they're getting fucked right down the line on the banks, on the jobs, on the housing, on the medical and pensions, and the rest. Too fucking stupid to see the multiple ice picks sticking out of their own foreheads...they line up at the door for more....and the elite play them like a harp.