Bird kills man at cockfight



A man who was at an illegal cockfight in central California died after being stabbed in the leg by a bird which had a knife attached to its leg, officials said.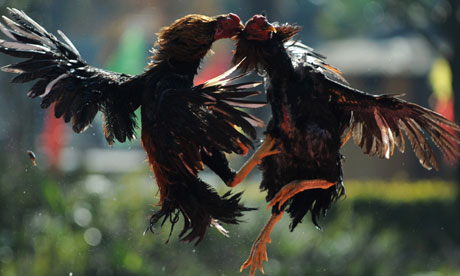 A man died after being stabbed by a knife attached to a rooster's limb at a cockfight. The blood sport is illegal under US law
José Luis Ochoa, 35, of Lamont, California, was declared dead at a hospital about two hours after he was injured in nearby Tulare County on 30 January, the Kern County coroner said.
A postmortem concluded Ochoa died of an accidental "sharp force injury" to his right calf. Sheriff's spokesman Ray Pruitt said it was unclear if a delay in seeking medical attention contributed to his death.
"I have never seen this type of incident," Sgt Martin King, a 24-year veteran of the sheriff's department, told the Bakersfield Californian newspaper.
Ochoa and the other spectators fled when police arrived at the fight, King told the newspaper. Deputies found five dead roosters and other evidence of cockfighting, he said. No arrests were made.
Cockfighting is illegal in the United States. Specially bred roosters are put into a ring and encouraged to fight until one is incapacitated or killed, while spectators gamble on the outcome.
According to court records, Ochoa paid $370 (£230) in fines last year after pleading no contest to one count of owning or training an animal for fighting, according to the newspaper.
Attending or organising a cockfight, or training an animal to participate in one, are all misdemeanours under Californian law, although a second offence is a felony.
http://www.guardian.co.uk/world/2011/feb/08/cock-kills-man-california-cockfight
_________________
The most beautiful thing we can experience is the mysterious. It is the source of all true Art and Science. - Albert Einstein