THE BIG ONE HAS BEEN UPGRADED!
1978 10 31 - Palladium, New York, NY
230 min, Aud, A/A- (with A-/B- patches)
The Big One. With L. Shankar (*) and Warren Cucurullo (**).
Ancient Armaments [H, part on TFZAABB], Dancin' Fool [H], Easy Meat, Honey Don't You Want A Man Like Me?, Keep It Greasey, The Meek Shall Inherit Nothing, City Of Tiny Lights, A Pound For A Brown, Thirteen* [guitar solo on YCDTOSA6], Ms. X story**, fantasy from a girl from the audience, Dinah-Moe Humm, Go Cry On Somebody Else's Shoulder / Little Rubber Girl [YCDTOSA4], The Idiot Bastard Son, Bobby Brown, Conehead*, Suicide Chump, Little House I Used To Live In* [incl. Zeets, H], Watermelon In Easter Hay*, Stinkfoot [H], Take Your Clothes Off When You Dance* [YCDTOSA6], Peaches En Regalia, Strictly Genteel, Sofa, Packard Goose*, Magic Fingers [parts on H], Yellow Snow Suite [incl. Don't Eat The Yellow Snow, H], Camarillo Brillo, Muffin Man, Black Napkins [H], The Deathless Horsie* [H]
_________________
ONE NATION UNDER SOCIALISM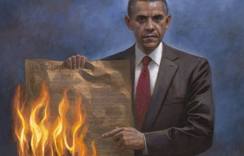 Because of Obamination's spending & socialist BS, America and much of the world will endure one of the worst depressions in history in
5...4...3...2...