The_Acadian_2 wrote:
WTF is Archer and what does he have to do with Capt' Kangaroo's Sidekick?
Answer my question Mr. GG !
Wikipedia sez:
Archer is an American animated sitcom television series created by Adam Reed for the FX network.
Set at ISIS, the International Secret Intelligence Service (cf. SIS, ASIS, CSIS, NZSIS, U.N.C.L.E.) in New York City, suave and incredibly self-centered master spy Sterling Archer deals with global espionage; his domineering, emotionally-cold mother/boss, Malory Archer; his ex-girlfriend (and fellow ISIS agent), Lana Kane; and his other ISIS co-workers (including fellow agent Ray Gillette, accountant Cyril Figgis, Human Resources Director Pam Poovey, secretary Cheryl Tunt, and Applied Research head Doctor Krieger); as well as a less-than-masculine code name: "Duchess" (after his mother's deceased Afghan Hound).[12]
The show's time setting is comically anachronistic, deliberately mixing technologies, clothing styles and historical backdrops of different decades. The characters wear 1960s clothing and hair styles, and many episodes feature references to the Soviet Union as a current nation — yet in the fourth season episode "Once Bitten", Turkmenistan is an independent nation rather than a Soviet republic — and to Fidel Castro as the current leader of Cuba. The show frequently uses pop culture references which are contemporary to the 2010s, yet character backstories place them at events — such as Woodhouse's service in World War I, or Malory's involvement in various espionage events of the Cold War era — which would require them to be much older than they are if the show were actually set in the 21st century. The technological sophistication within the series also varies, with characters using dated computer technology (e.g. reel-to-reel mainframe systems, dot-matrix printers and punchcards) and making surveillance recordings on cassette tape rather than digitally, but also using modern devices such as cell phones, GPS devices, and laser gunsights. This ambiguity is explicitly recognized in at least two episodes, in which characters are asked what year they think it is but are unable to answer.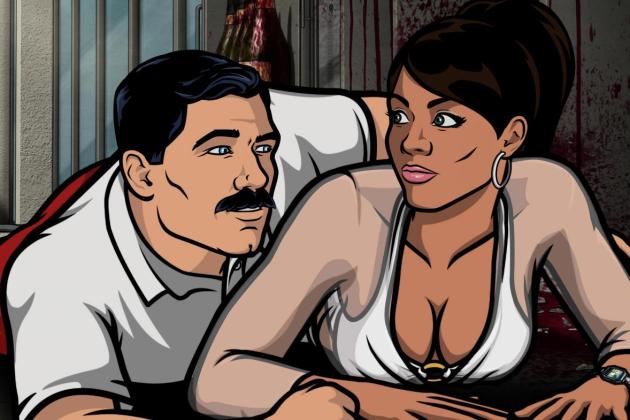 _________________
*********************************************************************