Last Friday was a Double Zappa Event Day!
I went to Cal Schenkel's Art showing at Firecat Studios. Then later in the evening went to see... let's say Joe or Thing-Fish so it takes a little longer for the post to be removed.
Cal's showing was good. A friend of mine bought this one:
I bought a considerably cheaper $20 one, but the signature I wanted was on The Unmoderated. As Forum Archaologists may know, the Cover of The Unmoderated was photographed and put together by White Person. Then, during the course finishing the project, he disappeared. Occasionally, he's spotted here or there, but otherwise, he is incommunicado.
Anyway, he took the picture for the cover in Cal's back yard. He had told me how he spent time there for an afternoon and Cal was a very good host to him. But, since I can't talk to WP anymore, I thought I'd see if Cal would verify that these were his Beethoven busts on the cover.
So, after waiting for Cal in a sweaty room as he spoke with the hob-nobbers, I explained the story to Cal and he said yes that he did have Beethoven busts in his back yard. Due to the picture having been pixelated, he couldn't confirm that they were HIS Beethoven busts, but said "Its possible". So, I said that if that was his opinion, then could he write that. He did. He wrote "Its possible..." and handed it back to me. I asked, can you write your name or something to say that you are referring to the picture. "You want me to personalize it or something?". He then asked me to repeat my forum name, wrote that and signed it.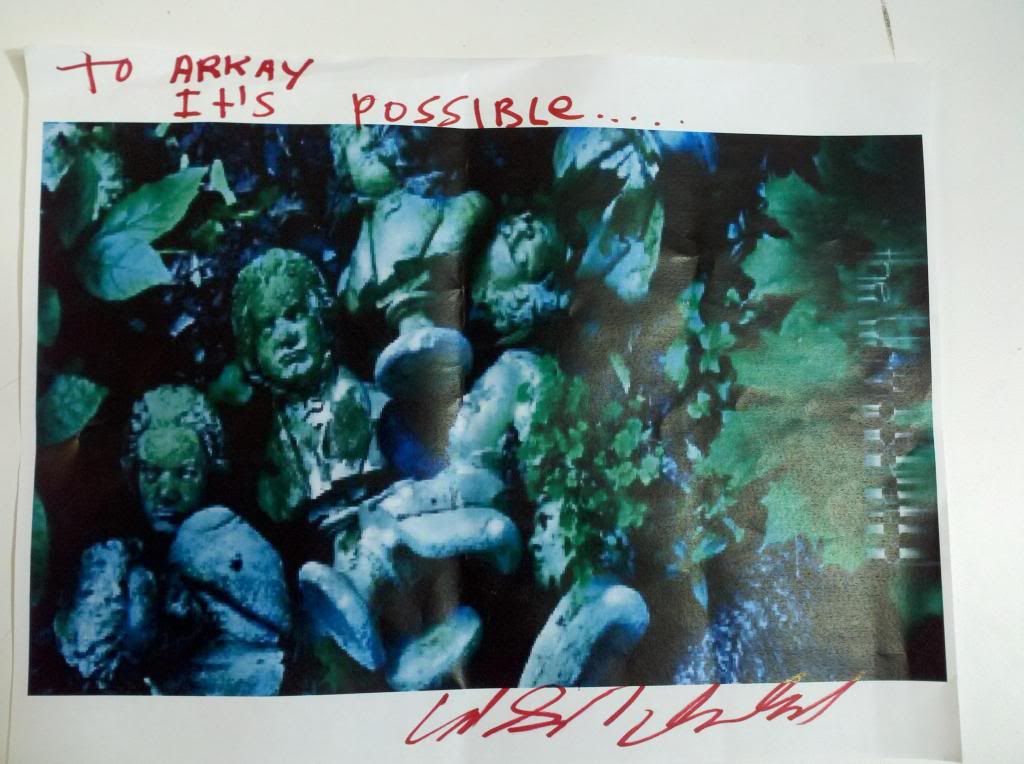 While he was signing it, I mentioned WP's real name, which made his eyes perk up. He asked if I had seen him recently. I said that jimmie d and debutante daisy might know more, but he rolled his eyes as though he sees them every other day. He also said that if it was WP who took the picture then they are definitely his Beethoven busts, but I figured that he had had enough of this story and left it like it was. He looked like he was very ready to leave with no chance in sight.
That was on the north side of Chicago.
The show I went to was on the south side. When I got there Thing-Fish was sitting outside with a youngster who seemed REALLY happy to be there. He turned out to be the bass player. I talked to TF for a while, told him about Cal being in town, which he seemed happy about. He mentioned his recent tour in Europe.
The show was fun. Very much an FZ Songbook kinda show. Only a drummer, bassist, guitarist and Thing-Fish. Lots of stuff that was fun to sing along with. There were instrumentals of the guitar nature as well, of which I think that TF has improved a great deal over the years and I really enjoy his playing more over time. Even though it was just a small combo, TF still worked up a sweat and talking to him afterward he gave me the usual "Was that alright for ya?". Always.
The bass player was hilarious onstage dancing like the Scarecrow from the Wizard of Oz. (Picture suitably blurry in the hopes of not deleting the post)