It was a retrospective of various favs. I had a great time. I was hoping for him to throw in some of "State", but not this time.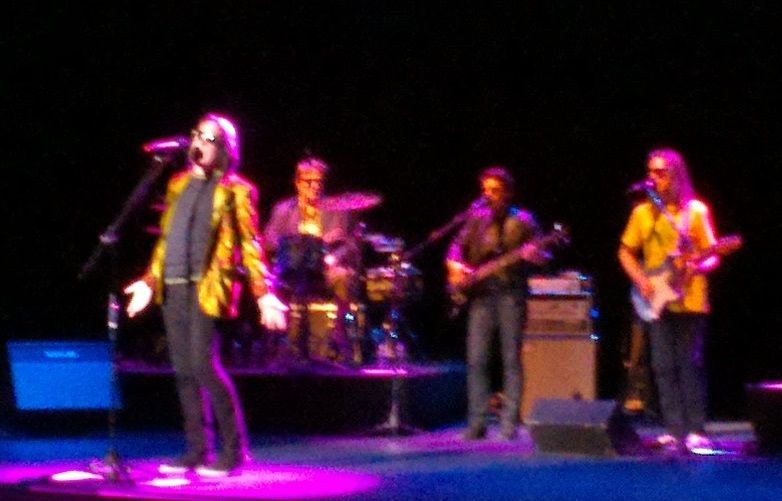 Here's the setlist:
Real Man
Love of the Common Man
Buffalo Grass
Kind Hearted Woman Blues
Determination
Lucky Guy
Can We Still Be Friends
Espresso
Love is the Answer
It Wouldn't Have Made Any Difference
Lost Horizon
Flaw
Soul Brother
Im So Proud / Oohh Baby Baby / I Want You
Hawking
I Saw the Light
Courage
Drive
Couldn't I Just Tell You
Hello Its Me
It was a small combo, but not the tight punch of the One Long Year tour. This was loose and likely put together on the assumption that not much effort would be required to make it work. TR is usually loose in the attitude of his performance and this was no exception, especially for the first several tunes, up to about Lucky Guy, when things started to really click as a group. Its a very short song, but they included a segment where the bass and guitar play with the chords in sinister sustaining pads. Harmonically, it was beautiful.
After Buffalo Grass he commented that the reason he doesn't take requests is that he never would have got to play that song!
Before "Flaw", TR said that he hopes no one made the poor judgement of bringing a child to the show. There was a 10 year old boy 2 seats over from us. TR said that a year of 2 ago, he had made a comment about Romney after which a woman had to be escorted from the building. He did a hilarious impression of her ranting and raving. He had brought up the story because of the "motherfucker" line in Flaw. I thought he might have had a new verse for "Jesse", but no luck. So, having told everyone that they shouldn't have brought their children, he said that anyone born after Frank Zappa (died) maybe should go to the bathroom about now. Is this the only show he mentions FZ on this tour or is it a regular thing? I'm curious. I know he's covered "America Drinks" before, so I'm hoping for more.
As for the band, I've always loved hearing Kasim. Imo, he's the greatest backing vocalist alive. Hearing them play Hawking was impressive. I'm used to hearing that tune with the big band with multiple vocalists. Here its just 4 guys and still a lush, expansive piece.
Determination included a rare Kasim Bass Solo. It was punchy, plucky and a great little flash in the pan. It was over before I realized just how rarely we get to hear Kasim's bass featured.
John Ferenzik was good as ever, but a bit weird too. He played one of those guitars that is also a synth, so he was playing some keyboard parts at times. For the most part, it worked, but for others, it sounded like the shoes were too tight.
Prairie Prince was as solid as expected.
Drive was near the end and wobbly at parts, but it built up energy and really got me going.
Todd played very little guitar, a solo here and there, only playing rhythm on "I Saw the Light" while JF played the solo part.
At one point in the show, he talked about the Ringo All Starr tour and told us how Ringo disappears in the middle of every show to let others perform, while he goes and eats a potato. So to act in-kind, for this show, he had someone come out with a stool (Nice looking stool, he says, especially at my age), a small table and a bowl of fruit, in case he wanted a nosh during the show. The banana turned out to be a shaker: