Trip wrote: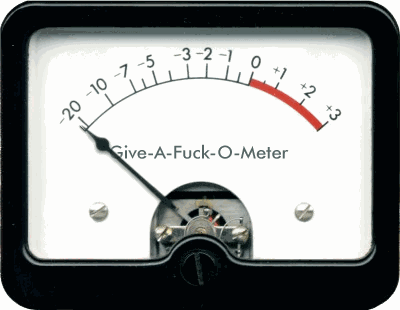 Caputh wrote:
Ah, this one again!
DB posted this it too and I have always asked myself whether, logically speaking, it doesn't mean that one gives a slight fuck. I know that the needle is on -20, but doesn't the fact that the needle is twitching mean that one is registering giving a fuck but the fuck can't make it above zero? Surely some kind a fuck is being registered here? If so, what kind of a fuck is it? A negative or a positive fuck?
Clearly, I am late for this discussion, but Caputh, you are exactly right. Some level of Fuck is active. VU (Volume Unit) Meters aren't just for audio, but all sorts of things. For audio, VU meters are usually logarithmic, but for Giving a Fuck, I guess it doesn't need to be, so it will be difficult to calibrate what that particular level of Fuck Giving will be.
The interesting part is the Red. You see, "0" is the maximum Fuck that can be applied. Let the mind reel on that one for a while. So, above "0" means that you are above the maximum. In audio, that means the output signal will distort so that it is no longer the same as the input signal. So, for this image, what does that mean to the Fuck? Imo, it means that anything in the Red is Perverted. By definition!