Keneally was a blast. The opener, Kava, was ok. Drummer, Bass Player, Guitarist. All 3 capable, but need to zero in on their sound more, imo. They gave me a free cd, can't complain about that.
Of course, we didn't get Dethklock meets Jazz Discharge Party Hats. We did get massive bass rumble from the venue next door whenever things got quiet. Reggie's is split into 2 venues and some metal band was playing so it became the joke of the night. At one point between songs, MK put his hand up to his ear and upon hearing no rumble, he and the audience cheered "We Won!". MK took it as an opportunity to play something less aggressive from Wing Beat.
Uglytown was a standout. My fav thing of the night was probably the massive amount of time he spent playing Guitar with the left hand and Keyboards with his right. I love that stuff when its done by someone as talented as MK.
For the last song, he asked the audience if we want a Beach Boys Brian Wilson type song (I assumed something from Wing-Beat) or if we want something crazy. I and much of the audience voted for crazy. MK noodled around a bit, as though trying to think of what to play. I was standing 5 feet from him at the merch booth and said "Whatever happened to Jazz Discharge Party Hats?". He immediately goes into it. Lunn knew right where to go, and Bendian was playing and obviously listening to the lyrics and looked like he had never heard JDPH before. MK got about 3/4 through and said "That's all I can remember!".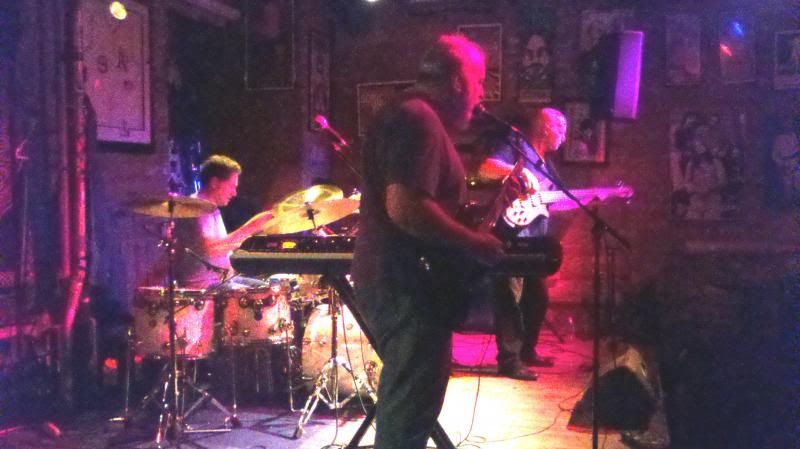 And then the one pic I really liked from Queens of the Stone Age a couple weeks ago: