An excellent end to an already excellent year. Thanks to Dweezil, Gail, Joe and all the hard work of the band Frank's music is with us again. And the time machine will tour again in 2007. Happy New Year to all of us.
Nuff already said about the confusion with the venue. Despite the confusion and delay I found the casino staffers to be exceptionally polite. Nothing like the treatment at San Francisco's Warfield. The time in line became an opportunity to make new friends who all bonded in a common cause.
It's all about the music boys and girls and Dweezil again presented his rockin' teen age combo.
The set list:
Improv open
Andy
Call Any Vegetable
(Just Another Band version)
Tell Me You Love Me
Florentine Pogen
Pygmy Twylyte
Idiot Bastard Son
Cheepnis
I'm The Slime
(sing a long encouraged)
Pound For A Brown variations
Don't Eat The Yellow Snow
St. Alfonzo's Pancake Breakfast
Father O'blivion
Inca Roads
I'm So Cute
Tryin' To Grow A Chin
Punky's Whips
Black Page #1
Black Page #2
Regyptian Strut
Peaches En Regalia
Montana
Village Of The Sun
Echindna's Arf (Of You)
Zomby Woof
Black Napkins
(w/ Dweezil playing Sheik Yerbouti Guitar)
The Torture Never Stops
(Saddam dedication; Dweezil breaks a string solo)
The Orange County Lumber Truck
Oh No
More Trouble Every Day
Sofa
Scheila, Aaron, Jamie, Billy, and Pete all do incredible work and shine the entire set. Not enough can be said about their dedication to the Project. A stand out moment: Scheila holds her own in guitar/sax duel with Vai and Dweezil even adding her own windmill arm action to match Vai's entertaining histrionics. The band was clearly having fun.
Joe Travers is nothing but SOLID. Technically, when Billy and Joe play Black Page with Terry, they become one. Joe puts the eyebrows on the music while holding it all together, even when dueling with Terry caged in his monster kit. BTW from my position at the edge of the stage opposite Terry it was difficult to hear his vocals but his kit sound fat and full.
Not enough can be said in praise of Napoleon's boundless energy, enthusiasm and love of the music, to say nothing of his dancing.
Vai is amazing and a ball to watch, where do those notes come from? The dueling sessions with Dweezil are like two kids in a playground.
Thanks again Dweezil and ZFT. Can't wait to hear the set list in 2007. What other band ever plays a solid 3 hour set?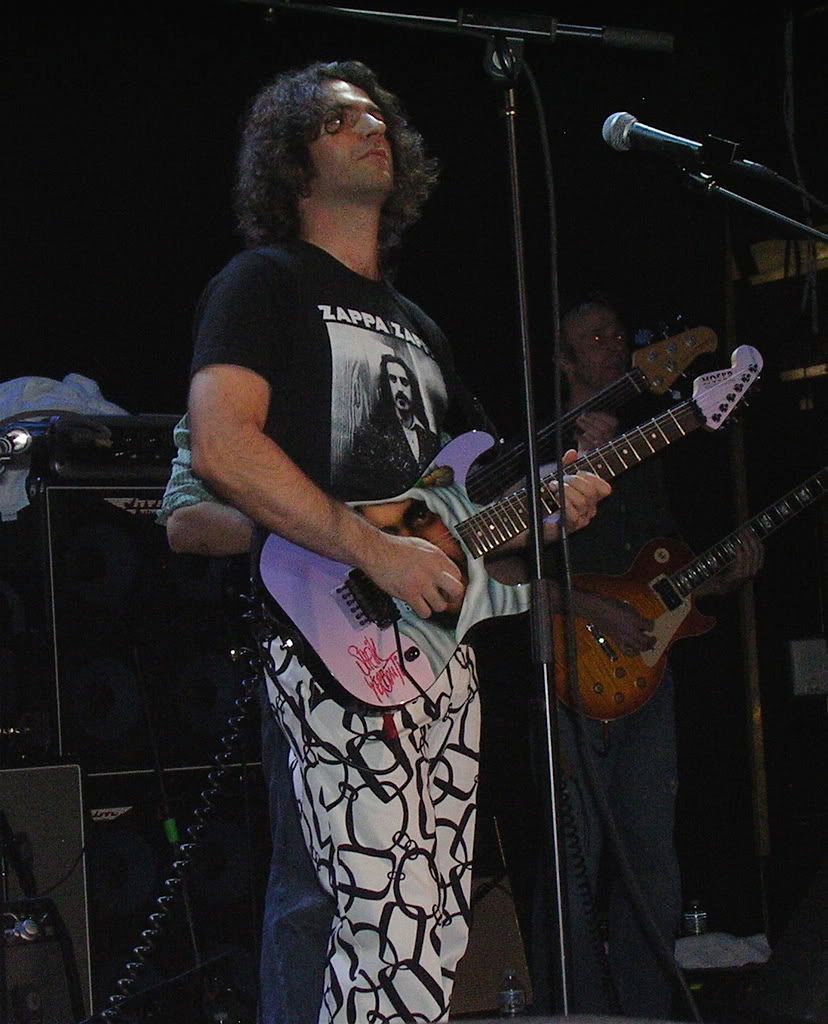 Reety aw righty hey! Nice pants.
See ya in 2007!